Specialists in Footgolf for Groups, Stag Do's, Team Building Days
We can offer foot golf across the UK and Europe for all types of groups.
Throughout the whole process, from booking to the event itself, the Funktion team were all incredibly helpful giving clear information and assisting with any queries I had so thank you very much.
How it works?
1. Where-what-when
Pick where to play your activity and choose your date and time. Simple!
2. Keep you updated
Once booked, access My Events Area to see event details and online payments.
3. Create memories!
Have a kick about with your friends and get some hole in ones!
Online VIP Events Area
Simple Group Party Planning
Online Itinerary – 24­/7 access to your event
Individual Payments – Secure online payments anytime
Features – Countdown clock, itinerary, Personalise it!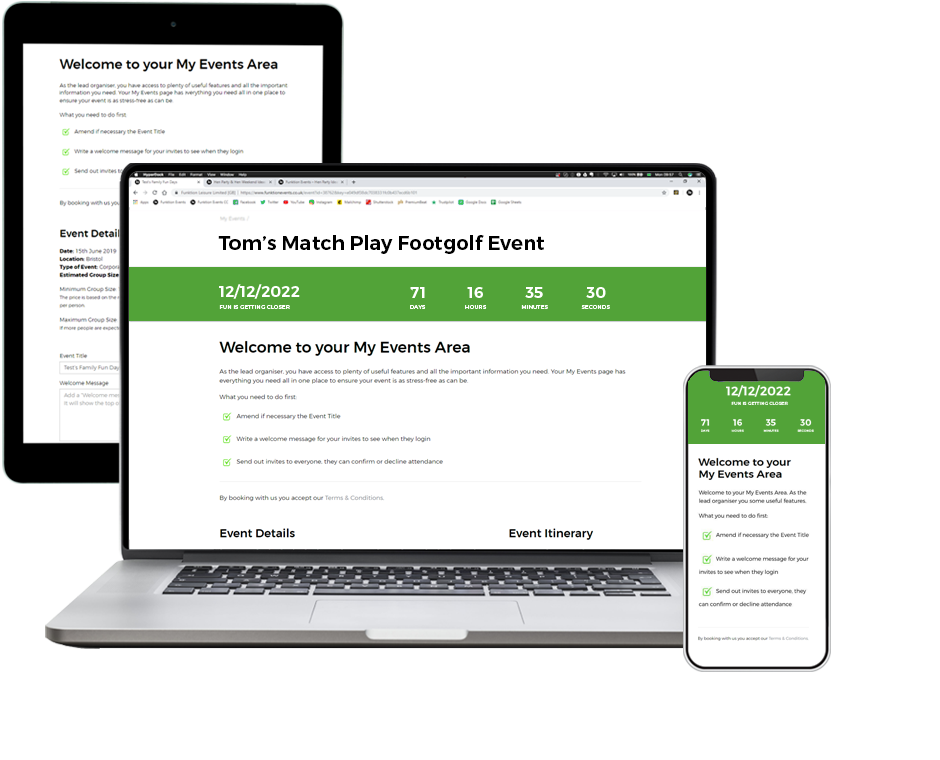 We are Footy18.com!
Hosting footgolf for all groups of ladies, men and mixed adults across England, Scotland, Wales, Ireland and throughout Europe.
Organising foot golf events nationwide for over 15 years!
We are UK footgolf experts!
Watch Footgolf Videos here
Unique Footgolf Experiences for Everyone
Call it Footgolf, Golf Football, Football Golf or anything in between… Footy18 is here to bring you this exciting combination of two of the most fantastic sports in the world! Played by professionals and amateurs alike, everyone can get stuck in and laugh with footgolf.
It's a great experience if you've got a group divided between their love of golf or football, bringing both together in a light-hearted play-off.
Why Choose Footy18?
Since being experts in the events industry since 2007 and hosting thousands of fun-filled & memorable activities for groups of all shapes and sizes, we're excited to bring this brand-new sport into the spotlight.
You only need to pick the perfect place and time for your footgolf event! We aim to deliver a stress-free booking process through our bespoke "My Events" area, where you can keep track of payments and who will be attending on the day.
We will take care of everything from the venue hire to the equipment. All you need to do is turn up and have fun!
Where can Footy18 Host?
With locations across the UK, Europe and beyond, Let Footy18 arrange everything for you, from hiring the course to the equipment and referees. From the seaside to the big city, there's no shortage of beautiful places to play footgolf.
From the big cities to the countryside, we've got you covered, so whether you prefer to stay local or plan a weekend away with your mates, book in with Footy18 and arrange your perfect day of footgolf now!