The Ultimate Stag Do Dares & Forfeits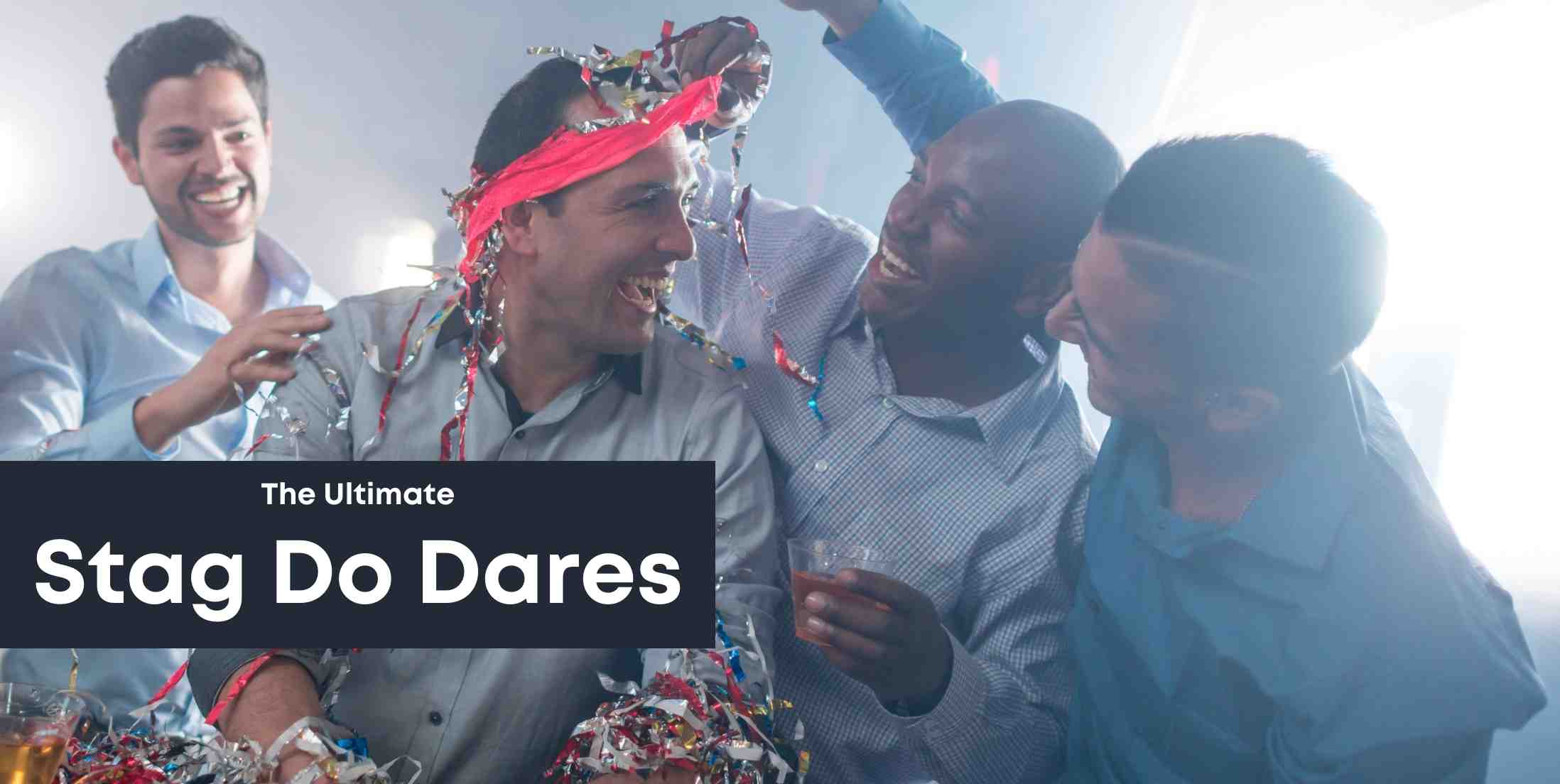 When it comes to the last night of freedom, there's one thing that separates the bog-standard night out to the ultimate night out, and that'd be hilarious stag do dares!
Ranging from slightly weird to downright awful, most of us know how wild a stag night can turn out when stag do dares are thrown into the mix. If you're really looking to make it a memorable evening none of you will ever forget, then these hilarious stag do dares we've put together for you will be sure to make some memories… for better or worse.
---
Top 40 Stag Do Dares for the Last Night of Freedom
1. Dancing Monkey – The group decides on an hilarious dance move… then the stag must perform it every time he's requested to do so!
2. The Superstar – Ask a random stranger for their autograph as if they're famous
3. Time Out! – Shout "I need a wee" as loud as you can, every time you need the toilet
4. Share the Love – Hug someone for a really long period of time, don't let go until asked
5. The Autograph Hunter – Get as many people as possible to sign a shirt
6. Captain Underpants – Wear your boxer shorts outside your jeans
7. Remember Me? – Convince a stranger that you've known each other for years
8. Fair Trade – Exchange an item of clothing with a random person of the opposite sex
9. Virtually Famous – Photobomb 3 girls photos
10. Self-Sabotage – Pour a shot of everyone's drink into one glass, then down it in one!
11. Voice of an Angel – Serenade a random girl
12. Look at Me! – Bust out your best dance moves whilst standing on a table
13. Am I Beautiful Yet? – Get a girl to give you a makeover using her make up
14. "Yes" Man – You can't say "no" to any requests for a full hour
15. Triple Threat – Down three shots in a row; No delays!
16. The Pint-Puller – Convince the bartender to let you pour your own drink
17. Spot The Spice Girls – Take a picture with every kind of spice girl you can find (1 scary, 1 sporty, 1 posh, 1 ginger and 1 babyface)
18. Bear Hug – Hug a stranger for as long as possible – Don't stop until they ask!
19. Cheap Skate – Get a stranger to buy you a drink
20. Smooth Operator – Buy a random stranger a drink
21. Mr International – Talk to a random stranger in a foreign accent and convince them you're from that country
22. Bobby on the Beat – Get a photo wearing a police officer's hat (We'll allow PCSOs too)
23. The Actor – Perform a scene from a famous film in the middle of the bar
24. The Athlete – Challenge a stranger to a push-up competition
25. The Kleptomaniac – Take one item from each bar you visit
26. Golden Voice – You can only talk in a singing voice for an hour
27. Inside Out – Wear all of your clothes inside out
28. I'm on a Diet! – Ask for "diet water" at every bar you go to
30. The Instructor – Attempt to teach a random group of strangers how to breakdance… even if you don't know how to do it yourself
31. Part-Timer – Work temporarily as a toilet attendant
32. Cheers! – Steal a girl's drink and drink it in-front of her
33. Let's Duet – Make the stag sing an entire song with a busker
34. Floor is Lava! – A classic childhood game; When someone shouts "floor is lava", make sure you're not touching the floor!
35. The Brazilian – Buy some wax strips. If the stag is caught saying a certain word (decide amongst yourselves), he has to apply and rip off one of these brutal beasts
36. Body Shots – The stag must buy a shot, lie down on the bar and wait for a stranger to drink the shot off their body
37. I'm Famous! – The stag must convince a random stranger that he's a celebrity – Find a famous person that looks like the stag on the internet beforehand
38. Protect the Stag – When someone in the group shouts "Protect the President!", all the lads must surround him like secret service agents. The last one in loses
39. The Big Ticket – Try and take home the biggest item you can find. The lad with the biggest object wins
40. Back from the Beach – Buy a bottle of fake tan and lather the stag up so he's caked in fake tan for the rest of the night
What we offer?
We run footgolf stag do's across the UK, including Liverpool, Bristol, London and Leeds. In the meantime, why not check out the best football pitches in London for a kickabout?